---
GEORGE CRUIKSHANK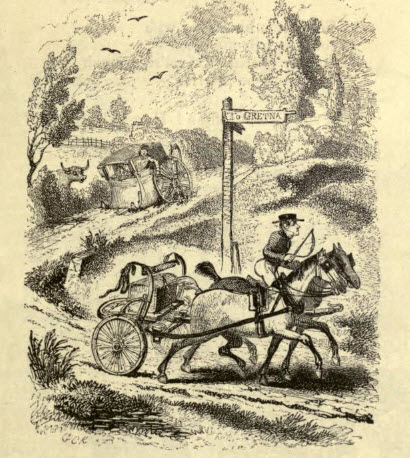 broken-down chaise are roaring after him : he is as deaf as the post by which he passes. Suppose all the accessories were away, could not one swear that the man was stone-deaf, beyond the reach of trumpet ? What is the peculiar character in a deaf man's physiognomy? -- can any person define it satisfactorily in words? -- not in pages, and Mr Cruikshank has expressed it on a piece of paper not so big as the tenth part of your thumb-nail. The horses of John Gupin are much more of the equestrian order, and, as here, the artist has only his favorite suburban buildings to draw; not a word is to be said against his design. The inn and old buildings in this cut are charmingly designed, and nothing can be more prettily or playfully touched.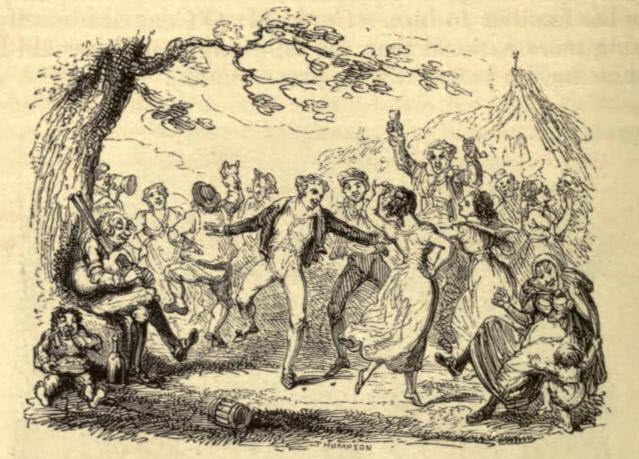 At Edmonton his loving wife
From the balcony spied
Her tender husband, wond'ring much
To see how he did ride.
" Stop, stop, John Gilpin! Here's the house!"
They all at once did cry;
*' The dinner waits, and we are tired -- "
Said Gilpin-- "So am I!"
---
---