---
GEORGE CRUIKSHANK
by the town-crier. And we blush to be obliged to say that the demoralized miller never offered to return the bank-notes, although he was so mighty scrupulous in endeavouring to find an owner for the corduroy portfolio in which he had found them. Passing from this painful subject, we come, we regret to state, to a series of prints representing personages not a whit more moral. Burns's famous ' Jolly Beggars ' have all had their portraits drawn by Cruikshank. There is the lovely " hempen widow," quite as interesting and romantic as the famous Mrs Sheppard, who has at the lamented demise of her husband adopted the very same consolation.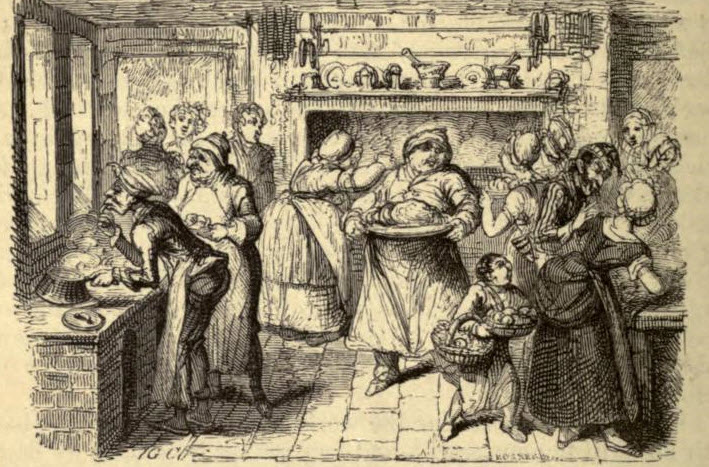 " My curse upon them every one,
They've hanged my braw John Highlandman;


And now a widow I must mourn
Departed joys that ne'er return;
No comfort but a hearty can
When I think on John Highlandman."
Sweet "raucle carlin," she has none of the sentimentality of the English highwayman's lady; but being wooed by a tinker and
'' A pigmy scraper wi' his fiddle
Wha us'd to trystes and fairs to driddle,"
prefers the practical to the merely musical man. The tinker sings with a noble candour, worthy of a fellow of his strength of body and station in life --
" My bonnie lass, I work in brass,
A tinker is my station;
I've travell'd round all Christian ground
In this my occupation.
I've ta'en the gold, I've been enroll'd
In many a noble squadron;
But vain they search'd when off I march'd
To go an' clout the caudron."
It was his ruling passion. What was military glory to him, forsooth? He had the greatest contempt for it, and loved freedom and his copper kettle a thousand times better -- a kind of hardware Diogenes. Of fiddling he has no better opinion. The picture represents the " sturdy caird" taking " poor gutscraper" by the beard, -- drawing his " roosty rapier," and swearing to " speet him like a pliver" unless he would relinquish the bonnie lassie for ever --
---
---