---
GEORGE CRUIKSHANK
enough to change him double the value of the article you sold him. Take back the boots, sir; I won't pay a penny of your bill, nor can you get a penny. As for you, sir, you miserable swindler and cheat, I shall not flog you as I did before, but I shall send you home : you are not fit to be the companion of honest boys.'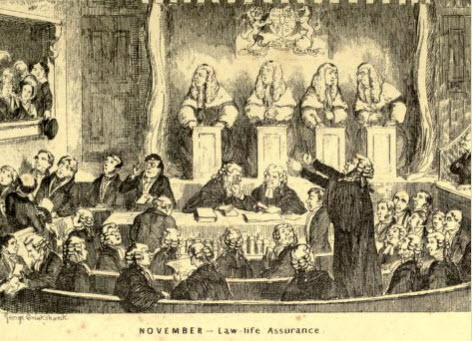 ' Suppose we duck him before he goes,' piped out a very small voice : -- the doctor grinned significantly, and left the school-room; and the boys knew by this they might have their will. They seized me, and carried me to the play-ground pump -- they pumped upon me until I was half dead, and the monster, Stiffelkind, stood looking on for the half-hour the operation lasted."
If the pictures which we are enabled to give at the conclusion of this notice are not quite so brilliant and clear as they were on the first appearance in the Almanac, the critic must be please<y to remember that we have been compelled to transfer to stone\ having no other means of adapting them to the size of this re- view. When we recollect, too, that twenty thousand impressions were previously taken from the steels, the public will not be disposed to judge of the engravings in their present condition, but will see what they must have been when first they issued from the hands of the artist.* One or two have withstood the transfer operation very well, especially the pleasant plate of * beating the bounds ' (how kindly and good-humoured it is!) and the * scene in court,' from last year's almanac, in which the celebrated Mr Mulligan appears in the act of addressing the bench in favour of his client, the famous Tuggeridge Coxe Tuggeridge.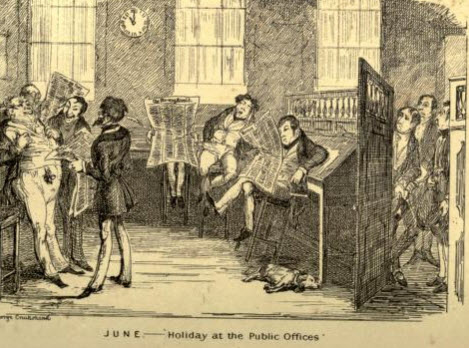 " Standing here (says the orator), on the pedestal of sacred Themis (we follow the peculiar mode of spelling that is adopted in the Almanac) seeing around me the ornyments of a profission I rispiet, a vinnerable judge, an enlightened jury -- the netion's glory, the counthry's cheap defendther, the poor man's priceless palladium, how must I thremble, my Lard, how must the blush of modesty befew my cheeks (somebody in court made an allusion to cheeks in the court, which caused a dreadful roar of laughter, and when order was established Mr Mulligan continued) : My Lard, I heed them not, I come from a counthry accustomed to opprission, and as that
---
A propos of the " Holiday at the Public Offices" -- (a delightful picture of real life) -- we are reminded of the diary kept by a certain clerk in a certain public office eastward of Cornhill, whose daily duties began with a good breakfast, provided for him whilst the monopoly of the China trade lasted.
From 10 till 11 -- ate a breakfast for seven, From 1 1 till noon, -- to begin, 'twas too soon. From 12 till 1 -- asked what's to be done.'
From 1 till 2 -- found nothing to do.
From 2 till 3 -- began to foresee
That from 3 till 4 would be a great bore.
---
---