---
GEORGE CRUIKSHANK
at a loss to think how he should provide means for future sup- port, exclaimed, very naturally, " What the devil shall I do ?" He had no sooner spoken,



than a Gentleman in Black made his appearance, whose authentic portrait Mr Cruikshank has had the honour to paint. This gentleman produced a black-edged book out of a black bag, some black-edged papers tied up with black crape, and sitting down familiarly opposite M. Desonge, began conversing with him on the state of his affairs.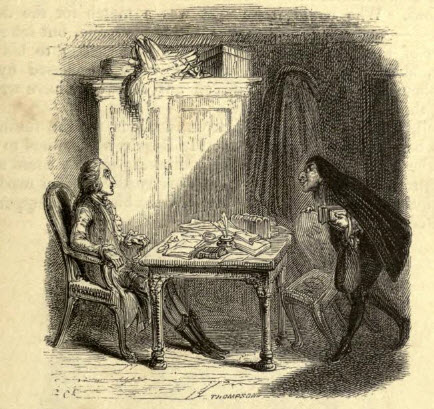 It is needless to state what was the result of the interview. M. Desonge was induced by the gentleman to sign his name to one of the black-edged papers, and found himself at the close of the conversation to be possessed of an unlimited command of capital. This arrangement completed, the Gentleman in Black posted (in an extraordinarily rapid manner) from Paris to London, there found a young English merchant in exactly the same situation in which M. Desonge had been, and concluded a bargain with the Briton of exactly the same nature.
The book goes on to relate how these young men spent th^ money so miraculously handed over to them, and how both, when the period drew near that was to witness the performance of their part of the bargain, grew melancholy, wretched, nay, so absolutely dishonourable as to seek for every means of breaking
---
---